Our Siberian huskies are working sled dogs and they are a part of our family. In the summer we hang out on the beach or swim in the lake, attend dogs shows, taking runs late nights when the temperatures go down and have a lot of fun with them. In the winter between tours and guests, we race the dogs and compete in working trials. We run them all year around, except 3-4 weeks off training during the hottest part of summer, to keep them happy and fit for the winter season. To us they are not just sled dogs, they are our life.
We only have purebred Siberian Husky and they are registered in the Swedish Kennel Club. All the puppies that we have breed carries our internationally recognized FCI kennel name Sheza Classic. Our puppies are born and raised indoors and live with us in the house until they are big enough to jump out from the puppy pen and race through the house. We believe they benefit from the close contact with the family as we also want all dogs to be able to live part time indoors when they are adults as well as the human socialization the puppies get from living the first months of their life in the kitchen.
Outside we have big kennels almost at our doorstep and all kennels are bigger than the Swedish law requires for animal protection. As a complement to the kennels our whole property is enclosed by a wooden fence so the dogs can run free and play under supervision. In the kennels the dogs have isolated doghouses filled with wooden wool to keep them warm and dry. There are also raised sleeping areas with roof and cover from the wind to give them the possibility to choose between different sleeping areas. Still, as the polar dog they are, they often prefer to sleep out in the snow. The dogs that sets the real polar coat, really don't like to sleep indoors in wintertime since they have too much fur to withstand the heat indoors and instead, we give them extra attention in the kennels and in the yard.
The main reason that we decided to work the dogs with guests is mostly to be able to really let them work as they are bred to do. In winter we spend almost all the time with the dogs, and we want to preserve the working Siberian Husky as a sled dog beyond all else. We find that the true working type is declining, and many are now breed for companion purpose.
So, come and have a run with our heroes and let them show you the joy and happiness they have for running. Experience the nature and the cold, the snow and the energy of the arctic dogs doing what they love the most!
Carillo Silver Fang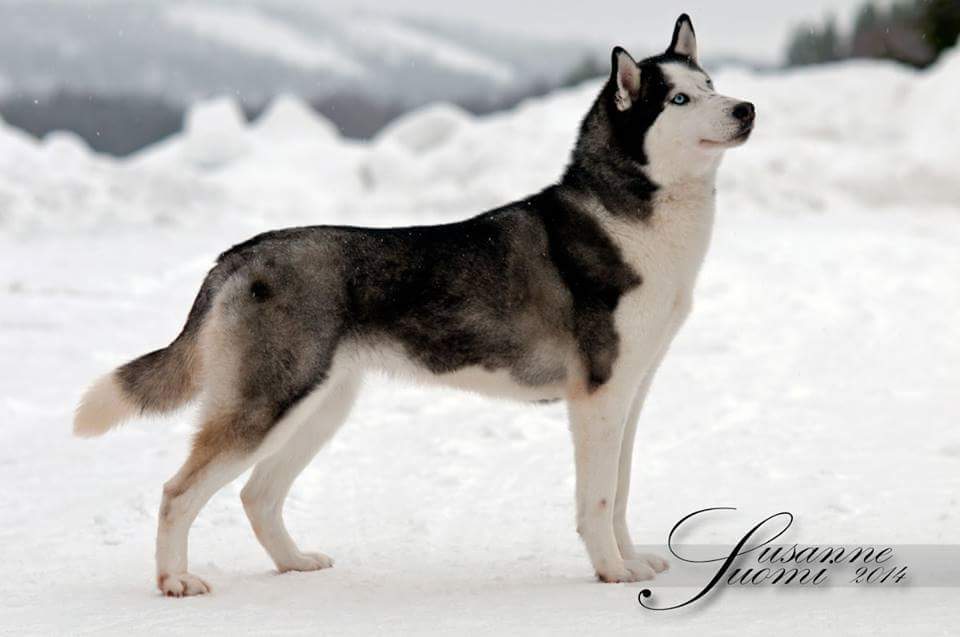 Panda - The grand old lady
Our retired grandma, running in the puppy teams and teaching them how to behave. Calm and gentle and have a habit off jumping up and down in the harness and howl very softly when someone talks to her. She have learned that guests means she will have some extra good treat. Panda loves food and she is quick to steal what she can reach so her waistline isn't was it used to be.
Sheza Classic Fierce Fell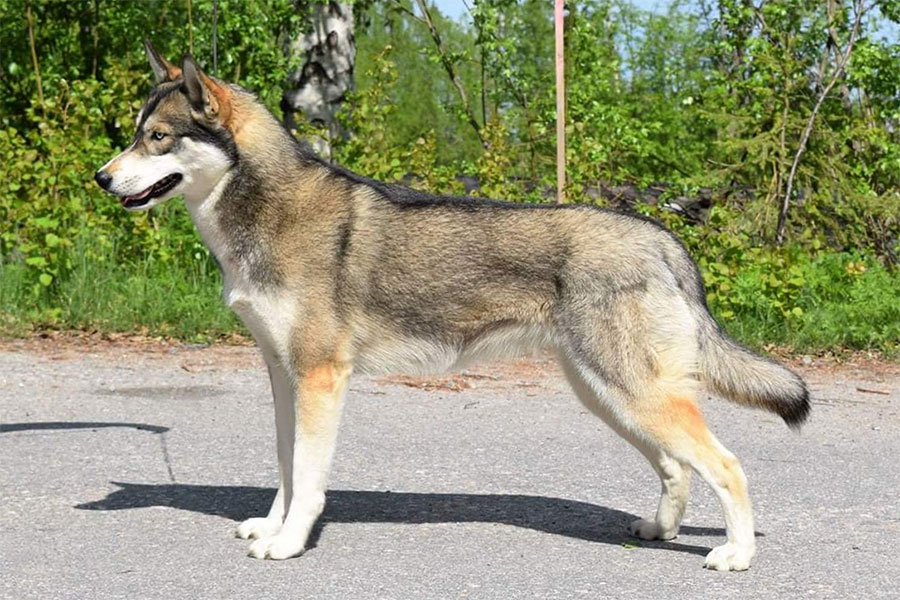 Dimma - The love of my life
Only 5 months old she had a severe accident were she got struck hard in the shoulder joint and almost ripped the joint apart! It took 4 months of cage rest, rehabilitation with laser, vibration board, water walking and weights around her paws with a harness keeping her shoulder tight to get her back. Smart, obedient (can walk free everywere), self confident. The bond we have after everything we been trough is hard to explain. My soulmate in fur ♡

Sheza Classic Gramse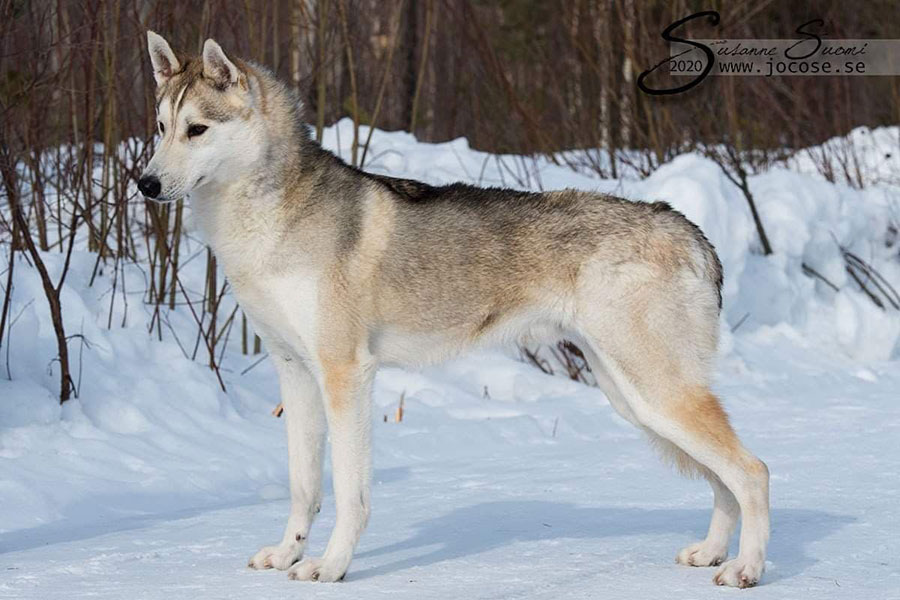 Gramse -big, fast and oh so sweet
Speed, power, endurance and it seems, leadmaterial. He is one of our biggest dogs with his 64 cm and already one of our best in the team. Before the run he will jump and scream just to tell us to go NOW! Therefore it's important that our guests wait to say hello to him until after the run, since we wouldn't want you to be knocked to the ground. Gramse lives for running and would run for days if we would let him.
Carillo Speed Stream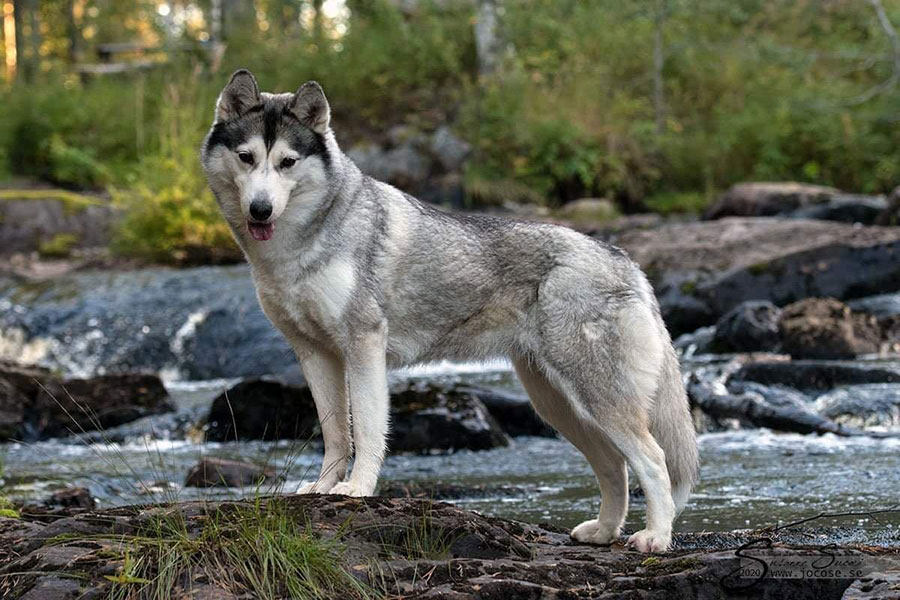 Isa - The one and only
Our main leader that will guide us were ever we wish to go. She is friendly, love to cuddle and is by far our best command lead dog. Isa is a kind soul that loves the children and all puppies and raises all new pups as the best nanny ever. She teach them with compassion and patience. When we run the team, she is the rock and security. She will always gives 100 % in the harness. 
Sheza Classic Saber Athena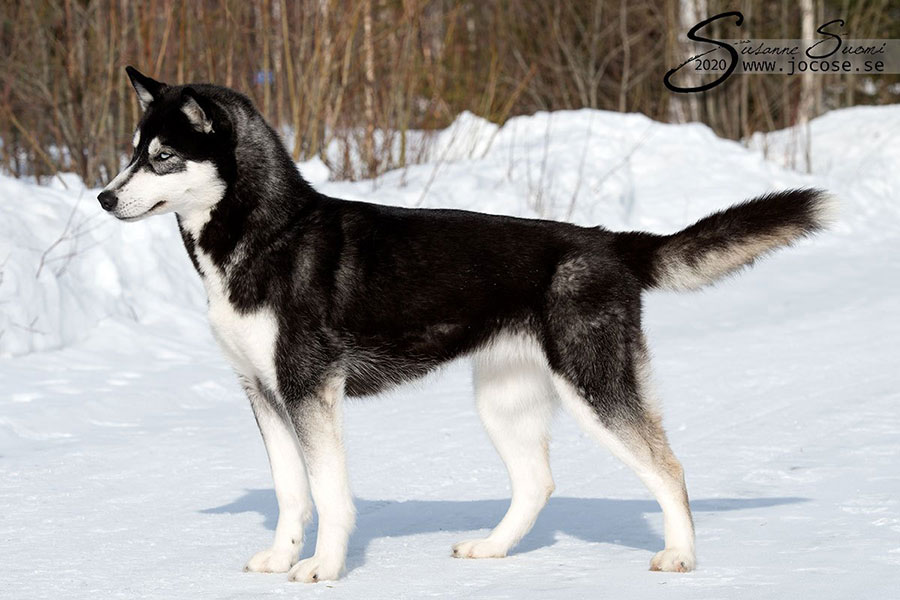 Mim - The pretty girl
Sweet and happy with an high energy level and big affection for people. She loves to cuddle with the guests but be careful since she is a excellent rogue who can steal snacks from the basket and even from the guests hands. Mim is jetblack with a smooth and lovely soft coat that you almost can't stop bury your hand in. She is still young and this season will be her first running in front of the sled and guests. 
Sheza Classic Ylwa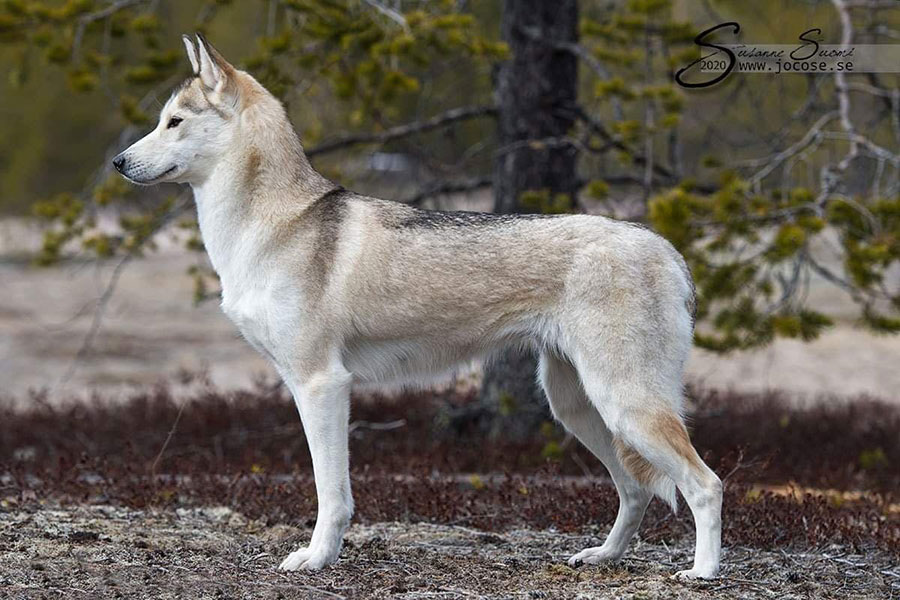 Ylwa - The shy and gentle
With her 53 cm she is the smallest in the kennel who have a lot to prove in her work, and she does! In the harness she transforms to a screaming maniac, jumping and barking and she get the work done as soon as we start. She doesn't care much for strangers but she is a wonderful family dog that often sleeps in the bed and she shines in the race team as she is fast and have both endurance and attitude.
Sheza Classic Snowy Summit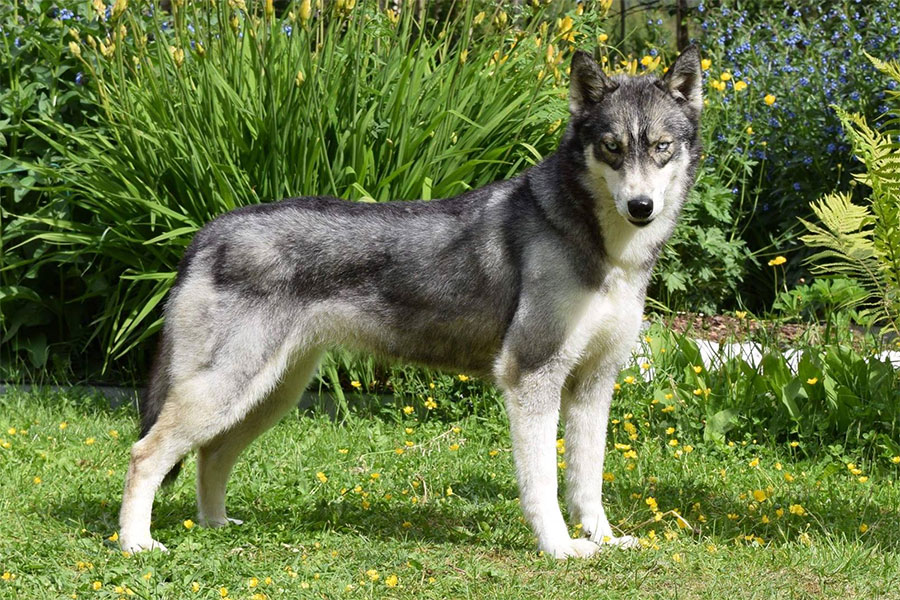 Saga - The sweet and gentle girl
A real fighter that had a rough start in life since she was hit by an virus infection at birth and almost didn't make it. She is a solid member of the team and running better and faster each season. Saga lives indoors full time and only the sofa and our bed is good enough for her. Loved child carry many names is a saying in Swedish and it is all so true with Saga, or was it Piff, Piffan, Sniff or Piffi?
Sheza Classic Hubbe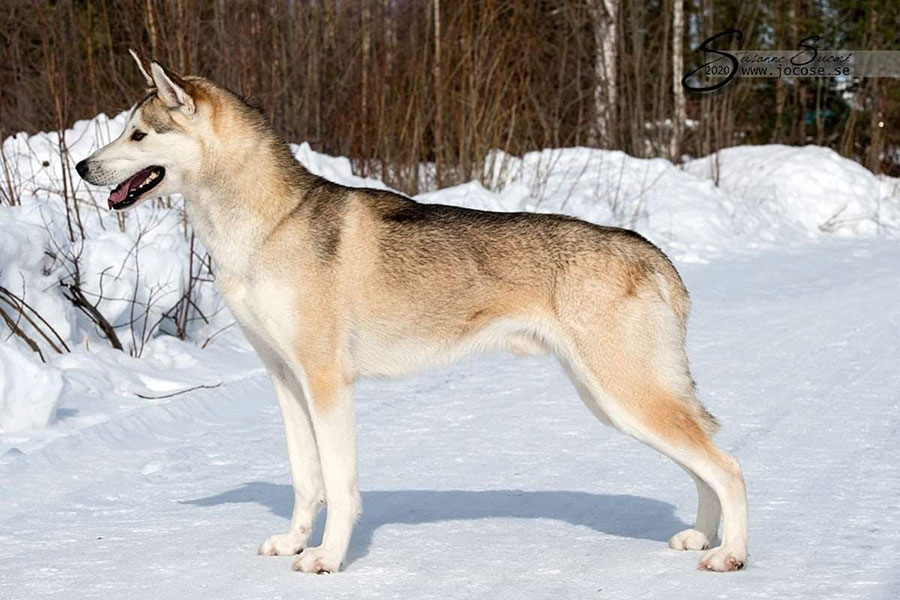 Hubbe - The big bear
Big and strong and the kindest soul that walks this earth. He loves kids and about everyone that say hello to him. He'll jump and lick your face, trying to get you down to the ground so he can really give you a facial wash!! He gives 110 % no matter what so I really need to watch him carefully so he don't get to hot or get any injuries. He will always try to run just a bit faster and taking a lot of weight  so we kept him from the long runs to stop him from becoming overworked.
Mountain Madness Viima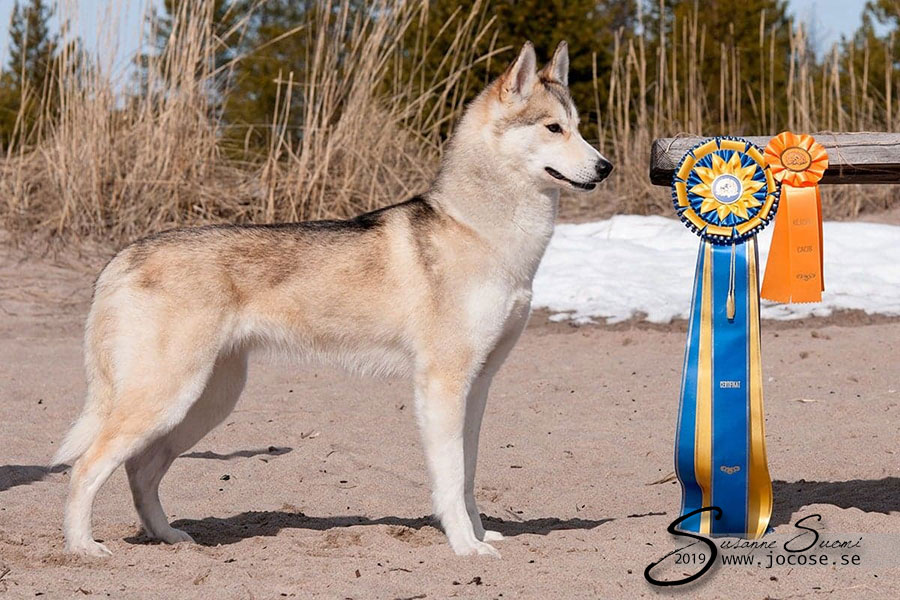 Viima - The wild one
Personality, attitude, sass and a lot of ego, she knows she is the best! If you talk to her, she talk back! Viima is fast, eager and never quit on me and as she is a perfect 54 cm high, she rock the show ring just as well as the work! She will only behave if I let her run in lead, so there is were she run, and she is good at it! Viima lead on inherited ability, she was just born to do it.
Sheza Classic Calla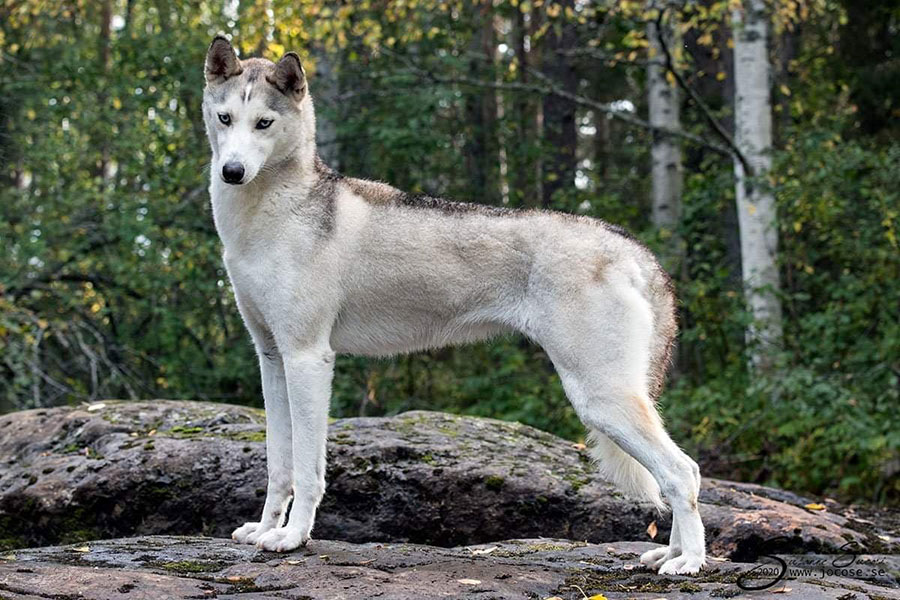 Calla - The odd one
A bit odd and don't behave as other dogs do. Things that can scare other just make her tilt her head and look around calm and secure. Calla is fast, powerful and just shines on every run. She will happily say hello to anyone but she won't love you unconditionally as some of the other will, she will save the affection for the late nights in the sofa were she can be just as odd and special as she wants to.
Artic Power Master of Disaster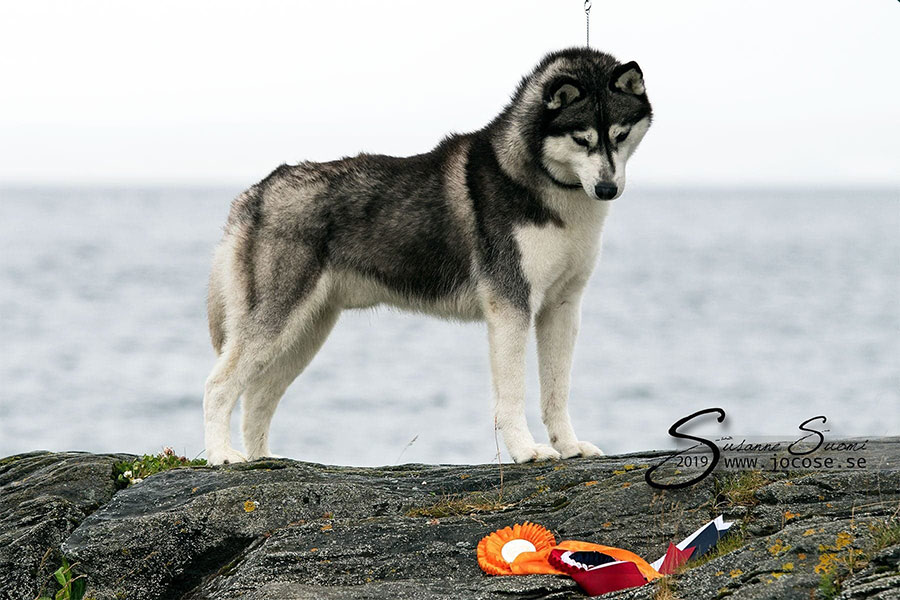 Armani - The energetic and friendly 
The odd one out in the kennel. A bit shorter in legs and a bit fluffier, our guest soon learn that he is the one that takes us uphill and he decides how long we stay for selfies. When it comes to power he is unbeatable! Like a train he just keep on going. Armani looooves people and will bounce in to your lap with out asking. Energy in fur, and loved beyond words as he is a special soul with so much joy and love to share.

Sheza Classic Elusive Lynx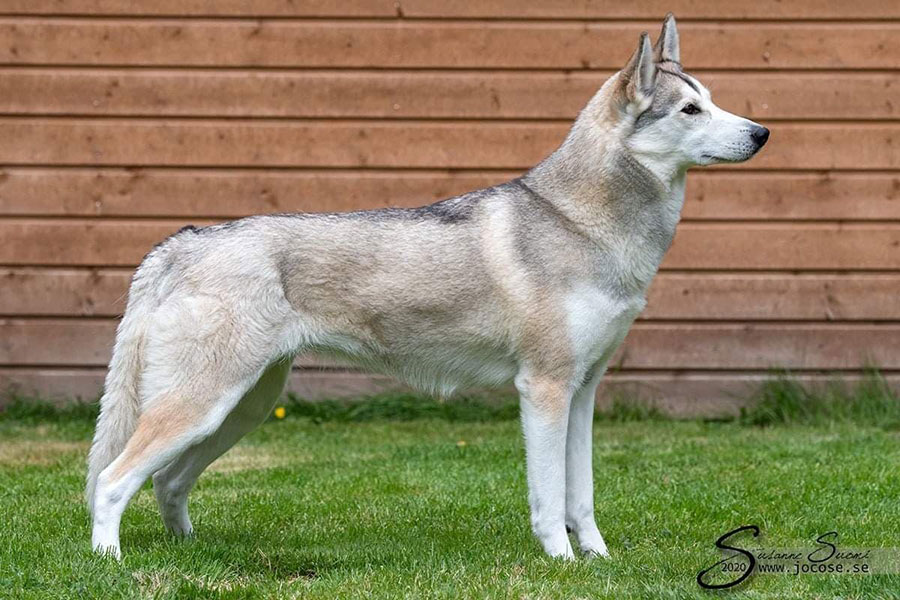 Amber - The happy and fun girl
Fast and strong, she work as a male. can run everywhere in the team but usually run in point behind the lead dogs. Effective and serious in her work, she never make trouble or misbehave in the harness.  She only have one bad side, she eats socks like crazy when we have her indoors so first we need to clean the house, then she can come inside.
Sheza Classic Nightwish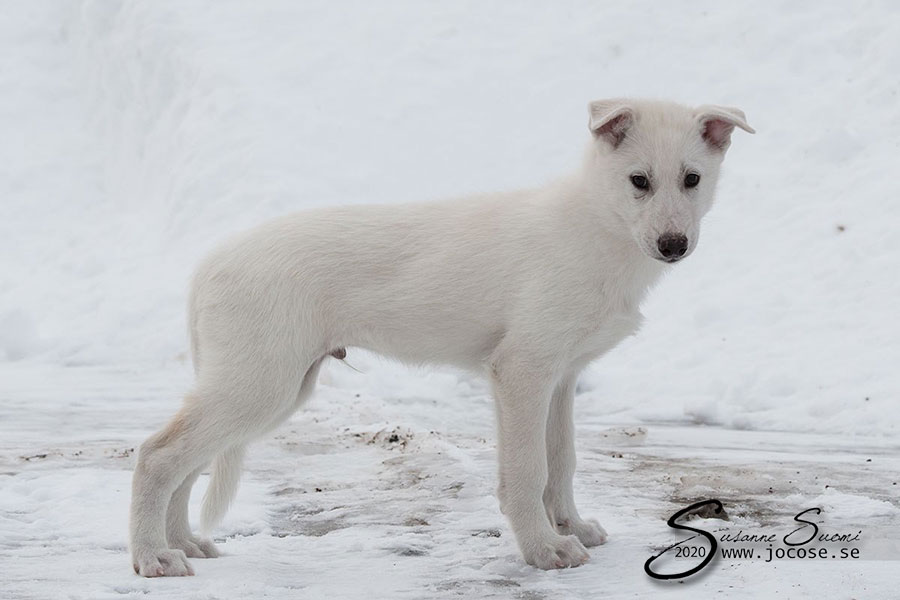 Bore - The special one
Bore is a result of an accidental mating. He has a very special place in our heart and sleeps with us in bed every night. His working skills are amazing but he really hates his collar and harness until we start running so this coming winter will consist of lots of practice with candy to learn him to like his clothes. Bore will either love you our ignore you, he has nothing in between and is absolutely one of a kind.
Sheza Classic Ravishing Wolf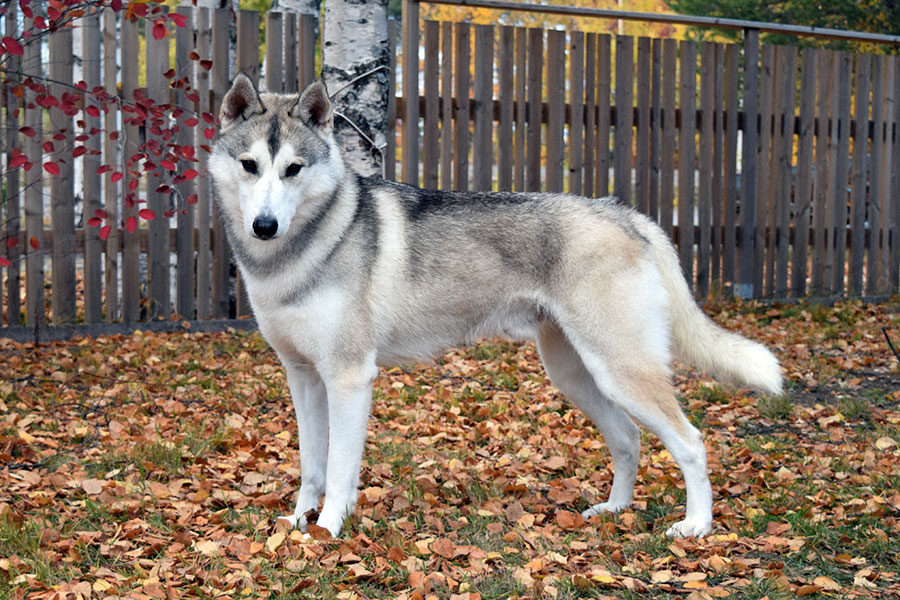 Tasse - The power and muscle
65 cm high and about 30-33 kg in full condition he is a lot taller and heavier then the standard of the pure breed Siberian ask for, but I cant complain! He works for 4! Never a bad day, never giving up and always giving 100 % he is a solid worker that really makes a difference in the team.
Tasse is a sweet and gentle soul that loves to cuddle up in the sofa and makes the cutest "cinnamon buns" when he curls up to sleep with his tail over his face.
Sheza Classic Silver Lining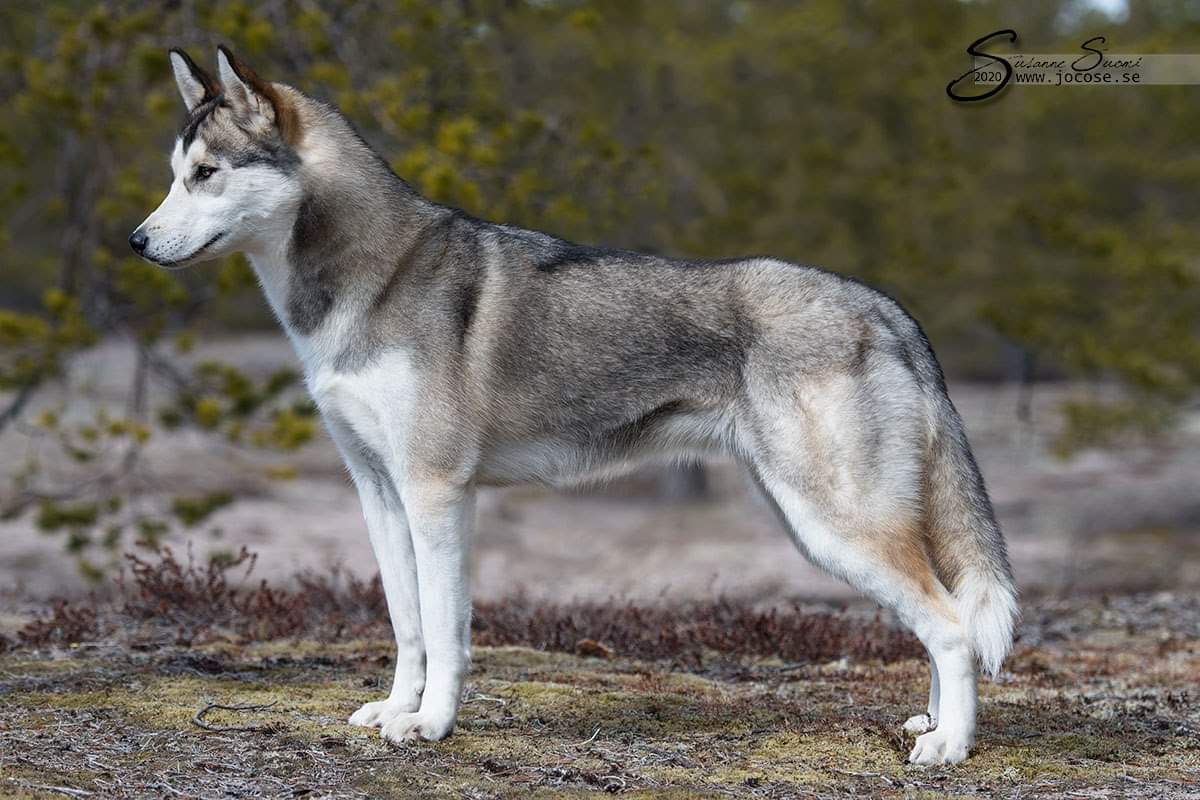 Mist - A dream come true
Mist is all my wishes come true. Her mother Dimma hurt herself as a young pup and could not be the race leader she was meant to been. when Mist was born she was a blueprint of her mother and she has the same stunning personality. She is obedient, self-confident and smart as well as strong and sweet.
Sheza Classic Jesko Ilmarinen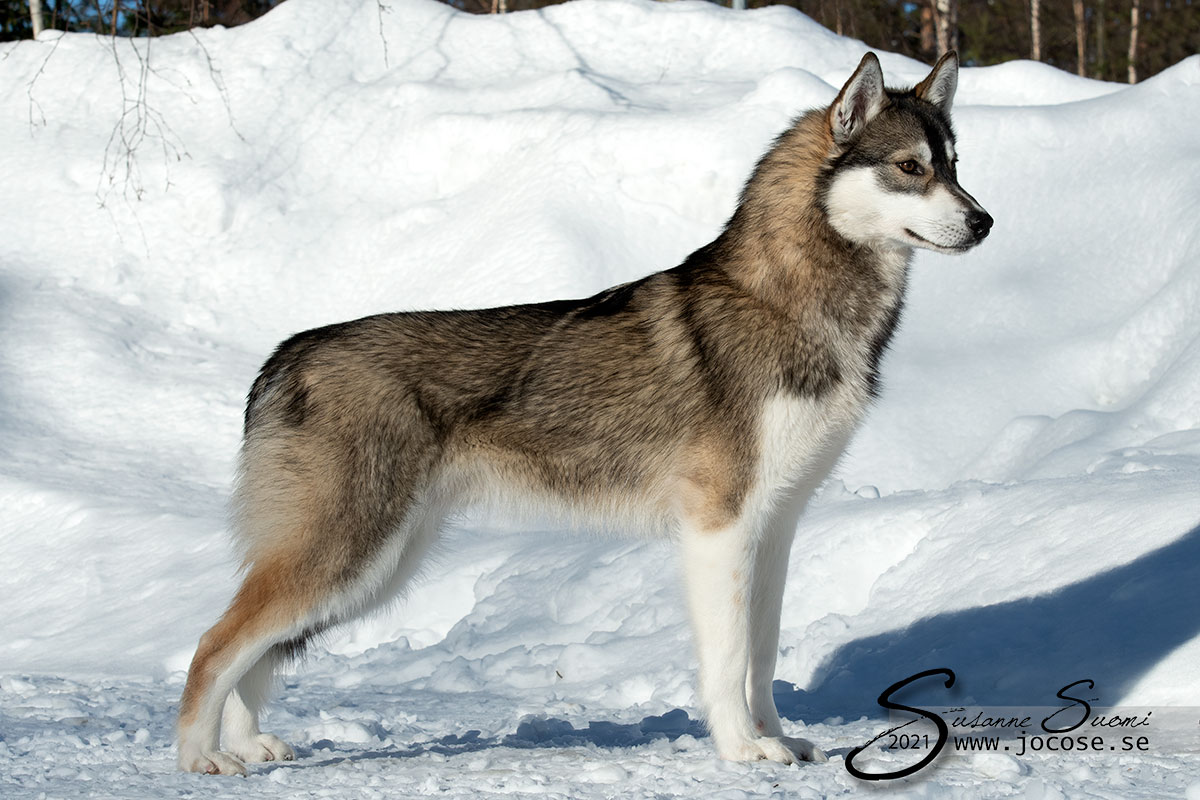 Sheza Classic Ilmatar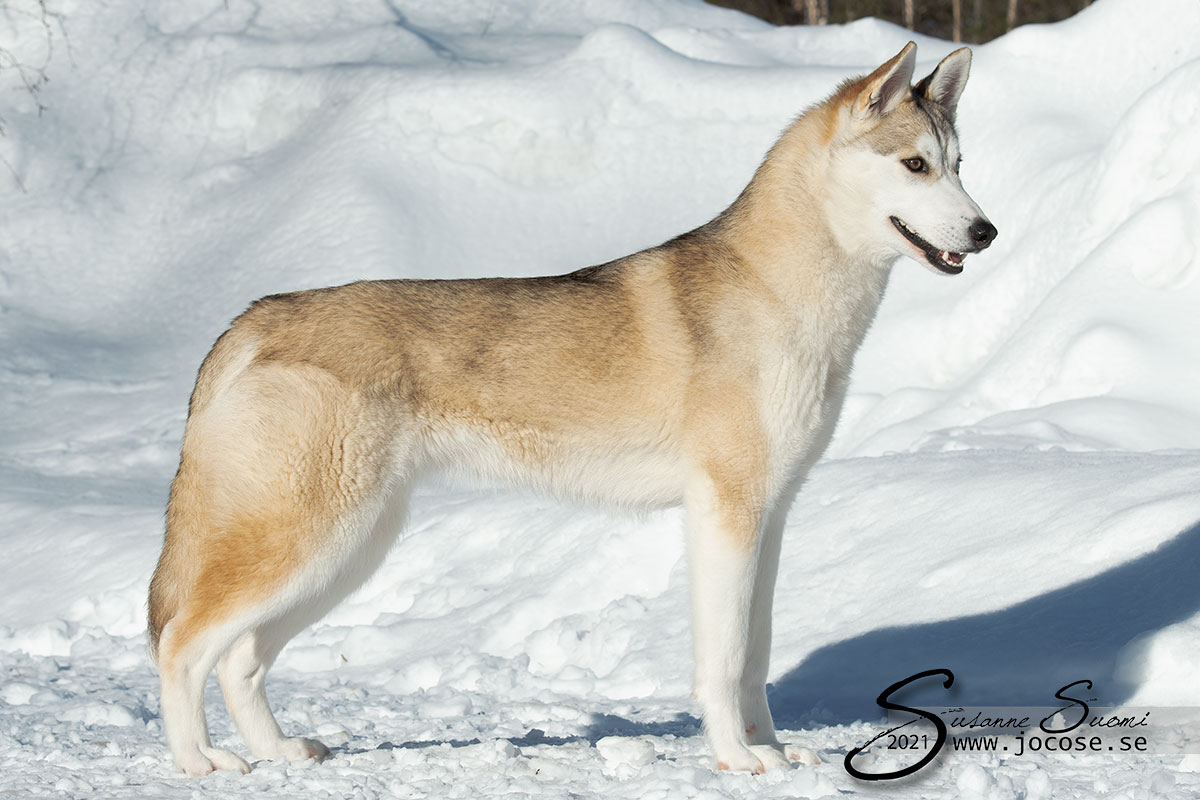 Shelby Anana Amarok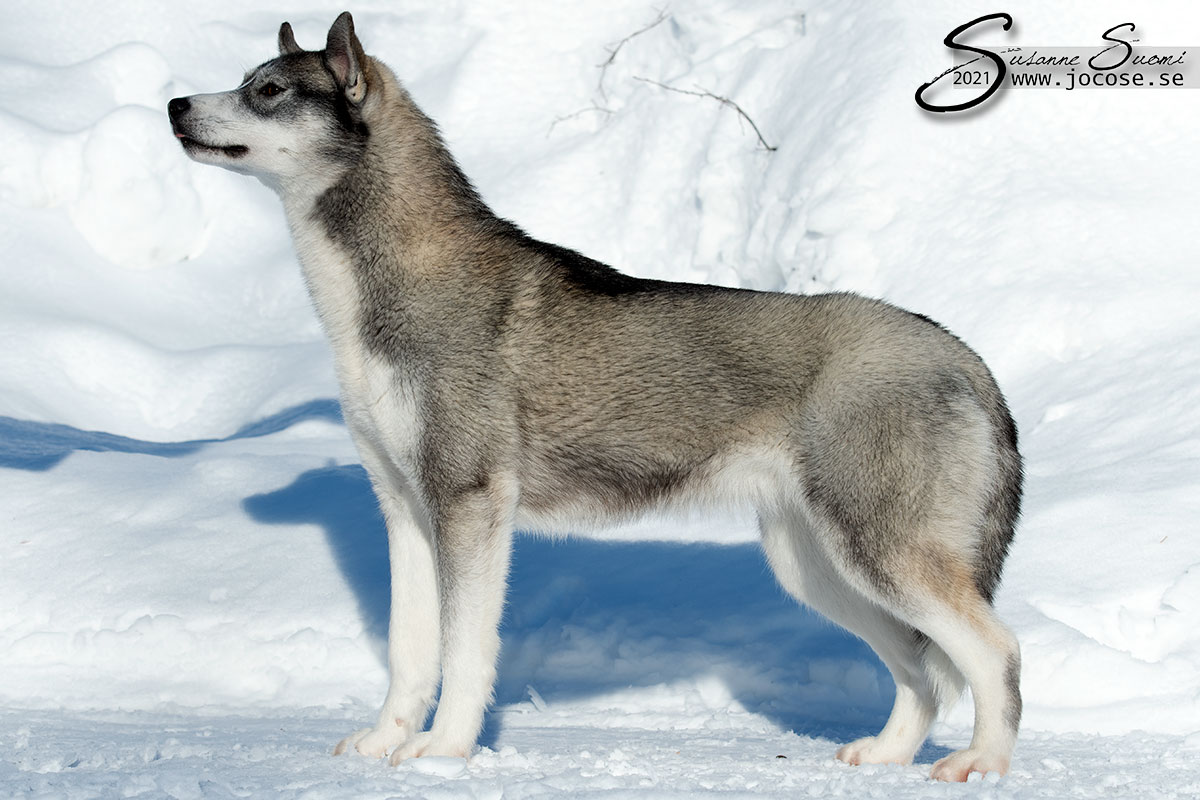 Sheza Classic Once in a Blue Moon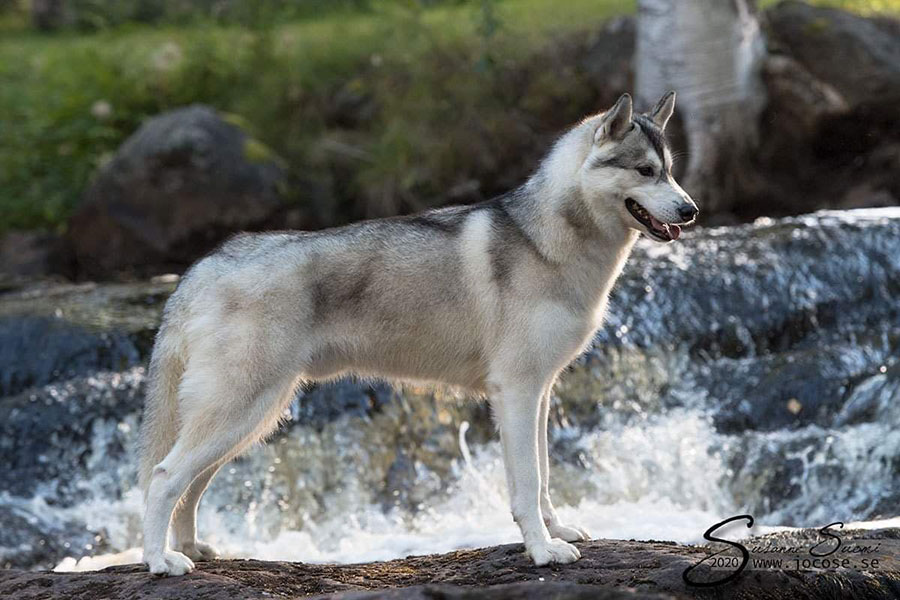 Jonno - The handsome guy
Jonno is the handsome guy, sweet and pretty. He look like a fairy tale Siberian but he is a true worker under his fluffy coat. Jonno is named after a dear friend and have just as big heart and is full of love and happiness.
Youngsters
Once or twice a year we have puppies, some of them stay here with us to become members of the team. But first they are naughty but sweet pups that run around, sleep in big cuddly piles and brighten the guests and our days with their existence.